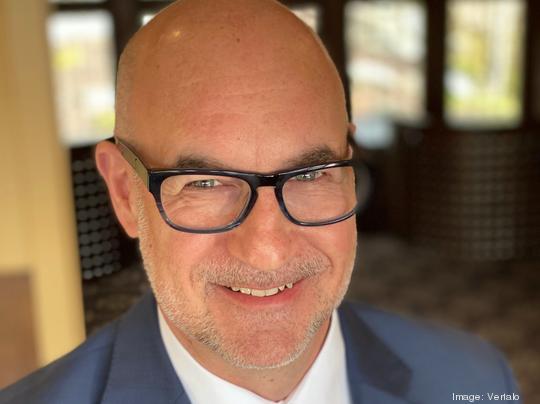 Vertalo co-founder and CEO Dave Hendricks.
Vertalo
By Mike Cronin - Staff Writer
July 29, 2021, 02:56pm CDT
---
Austin-based blockchain-technology startup Vertalo plans to expand its physical footprint and more than double its staff after closing a $5 million funding round, said co-founder and CEO Dave Hendricks.
The business, whose legal name is SeriesX.Net Inc., has developed a software-as-a-service platform that helps companies structure security token offerings. The platform also assists with investor onboarding, compliance and cap-table related activities. Hendricks co-founded SeriesX in 2017 and launched Vertalo in 2018.
Hendricks said that "most of the funding is going towards product and development, but of course like all growing startups we are also investing more in sales and marketing."
Vertalo currently employs a total of 20, up from 10 at the start of 2020, all of whom are based in the Texas capital. The CEO said he plans to use some of the new capital to hire at least another 20 people during the coming year.
"Most of the new hires will be in product development and client success, but we also expect to add more firepower to our sales, marketing and operations teams," Hendricks said.
The CEO also teased "key executive announcements" the company will make during this year's third quarter.
Hendricks said Vertalo also is "investing in more office space. We have increased our real estate footprint in our Arboretum offices three times in the last eight months and we expect to continue to double and triple-down on the best in-person, in-office work environment that we can provide our growing team."
Vertalo currently leases about 10,000 square feet at 9020 N. Capital of Texas Highway, where it has been since early last year. Hendricks expects to double the amount of space within nine to 12 months, if not faster.
Zach Ellis with Colliers International Group Inc. (Nasdaq: CIGI) has been Vertalo's commercial real estate broker since 2018, the CEO said.
The series A round, which officially closed April 18, "was a rolling, leaderless, strategic round," Hendricks said. Investors included San Francisco-headquartered Coinbase Inc., which runs the nation's busiest cryptocurrency exchange, as well as Austin-based Sputnik ATX, Los Angeles-based Wedbush Capital Partners, Silicon Valley-headquartered Shasta Ventures, Utah-based Quansight Initiate and Florida-headquartered Naples Technology Ventures.
The startup has raised $7.8 million to date. It reported raising $2 million in 2018.
Vertalo has a stable of roughly 40 clients. Those include Deal Box, Resolute Capital Partners, tZero, My Vertical Equity, MountX and Planet Wealth. Hendricks expects some of them to be among 300 to 350 anticipated guests when Vertalo hosts its first ever digital assets and securities conference at Omni Barton Creek on Sept. 21-23.
The CEO projected the company would generate roughly $5 million in revenue this year, 10 times what Vertalo generated last year.
Though the company could be profitable "within a quarter" if that was a current goal, Hendricks said, "Our focus right now is on growth and we expect to raise another funding round later this year to accelerate that growth and invest in more amazing people, product and real estate to house them."
Business-intelligence provider ZoomInfo Technologies LLC identified as competitors with Vertalo North Carolina-based Investor Management Services LLC, which has developed a software platform for commercial real estate investors, and San Francisco-headquartered TokenSoft Inc, which has developed compliance software "for blockchain-based securities backed by Coinbase," according to Crunchbase.
But Hendricks doesn't view such businesses as competitors. Instead, he said, "We compete more with 'old ways of doing things' than we do with other companies, but we are often compared to cap table companies like Carta or token issuance platforms like Securitize."
He added that "Vertalo is substantially different when it comes to business models and technology than those two companies. We like to think of ourselves as 'connecting and enabling the digital asset ecosystem,' basically we are creating a new category."