Streann, Triton and JBFM join forces to launch a new audio streaming experience in Brazil!
Miami, Fl — September 1st, 2020.

The Challenge:
Rádio JBFM and Radio Cidade are two of the most popular Radio Stations 📻 in Brazil, with over 200 Million impressions per year.

The media company, leader in Brazil, was looking for cutting edge technology to improve end-user experience via mobile Apps and new forms of monetization. They had tried different solutions, but none of them worked until they implemented Streann.
The Results:
JBFM and Radio Cidade were able to reach larger audiences globally, expanding the footprint of the radio station and adding thousands of new users.

Thanks to Inside-Ad and its non-invasive video advertising system, viewability rate increased up to 95% for brands.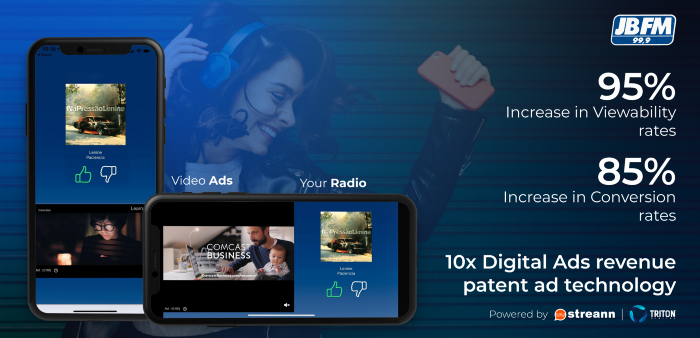 And with Inside-Chat, JBFM and Radio Cidade have been able to create innovative campaigns, increase engagement by 300% and double the number of app downloads.

The Deployment:
Streann implemented several technologies including:
Integration with Triton Digital

Market First Audio Interactive Features

New Video Ads Format, Inside-Ad

Engagement Campaigns with Inside-Stories

Audience Data Dashboard & Campaign Tracking with Inside-Analytics
"We are proud to be integrated with Streann, and to provide them with the technology necessary to power the delivery and monetization of Rádio JBFM," said Benjamin Masse, Managing Director, Market Development and Strategy at Triton Digital.

"We remain committed to helping stations like Rádio JBFM deliver exceptional listening experiences while generating meaningful digital revenue."

"We love working with Streann because we are not a number. They care about our success, embrace our goals, and work together as a team to make it happen," said Antonio Brito General Manager at JBFM.

Download here for the IOS version or here for the Android version to test the App and see our new video ads formats, bringing local and programmatic video ads into the radio world. Patent-pending technology features also include chat, polls and games.